Tickets for Snow4Kids 2018 Christmas Edition are on sale now!
December 14th to December 23rd 2018
Summer School Holidays!
REAL SNOW
South Bank Piazza, South Bank Parklands, Brisbane
Event Dates
We will be operating for our first Snow4Kids Christmas Edition during the 2018 Summer School Holidays from December 14th to December 23rd!
Opening hours: 9am-9pm
Session Times: Every Hour
Session Length: 50 minutes
Venue
We will be returning to the Southbank Parklands in 2018 for first Snow4Kids Christmas Edition!
The South Bank Piazza
Cnr Glenelg & Little Stanley Street
South Brisbane QLD 4101
Ticketing Information
Snow Tobogganing, Falling Snow, Santa Disco with Special FX and Snow ball throwing:
$20 per person or book immediately and take advantage of our Special Early Bird $15 per ticket offer.
Covers the Snow4Kids Park which includes all the above attraction.
Please note: Online ticket purchases will incur a $1.50 ticketing fee per ticket and all people entering the park must purchase a ticket including parents and carers.

A Real Snow Experience in the Heart of Brisbane
Snow4Kids has been delivering amazing real snow entertainment to the children of Brisbane since 2013. Our technology has been in development for more than 30 years, specialising in real snow environments in temperatures above freezing.
Now in our seventh year, we are excited to Bring Snow4kids Xmas to SouthBank  for even more frosty fun in the 2018 summer school holidays!
Snow4Kids 2018 is going to be bigger and better!
Check out what's on offer below
Snow4Kids 2018 will feature new Snowy Christmas attractions with just one ticket!
Our 2018 Snow4Kids Christmas Edition will include 100 M3 of fresh snow daily, featuring our super fun toboggan slopes, snow ball throwing, falling snow and Santa' Snow FX Disco
Cool down, Dance, Slide and Play in the Snow.
Tickets are now on sale for Snow4Kids White Xmas 2018!
Please ensure that you read the Conditions of Entry and Ticketing Terms and Conditions below.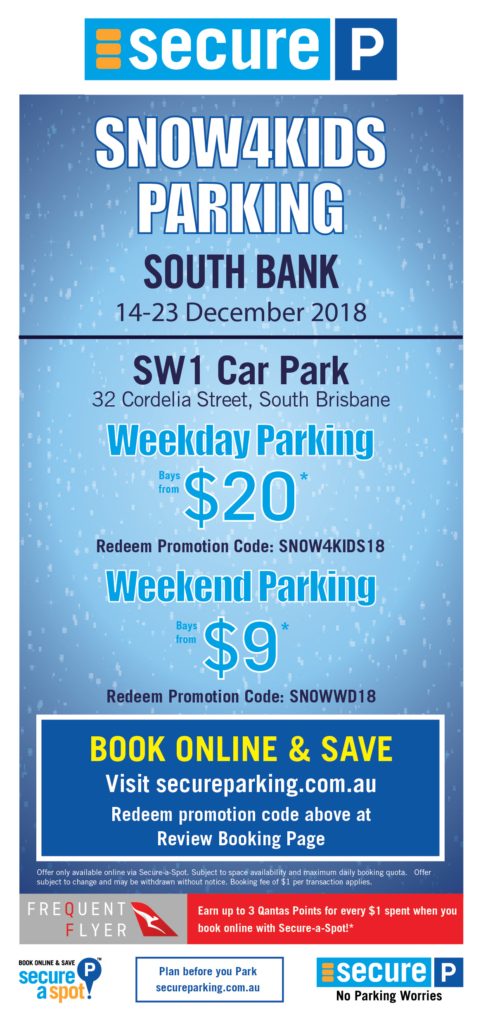 Check out our Frequently Asked Questions Page!
Connect with us via Social Media!
We're on social media – so feel free follow us and tag us on instagram, message or just give us a thumbs up!
Share photos from your experience visiting our events and stay connected for information on our 2018  School Holidays events.
Please call for urgent enquiries.
If you have any ticketing requests or questions, please email us.
Email: tickets@b4snow.com
We can't wait to see you!